Home Get Involved Supporters Directory
---
Thank you to all our Trustees, Advisers, Vice-Presidents and our President; Individuals - for both your one-off donations or your regular gifts; Corporates, Trusts, Foundations and Livery Companies who help make St Andrew's Club the precious community asset it is today. We couldn't do it without you!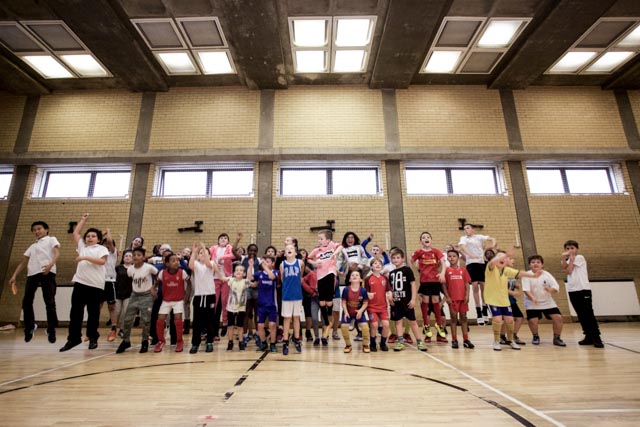 "If serving young people were only about providing facilities, our Club would be little more than a sports centre. But St Andrew's operates at the heart of its community, it has tradition; it has soul. It's where young people undertake a host of activities in an environment of moral leadership, inspiration and support. It is a place in which respect for others is mandatory. And, something we never forget - it is a place where young people can, and should, have, fun".
Barry Walsh, former member and former chairman of St Andrew's Club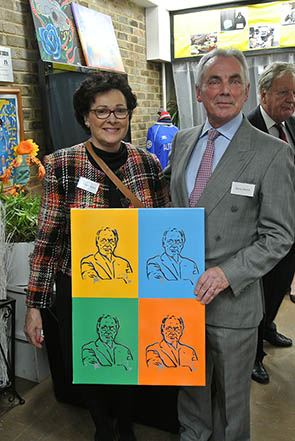 Barry, with his wife Bronwen, accepting a stencilled portrait made by the members,
to mark his retirement from the Club in 2015 after many years' service.
What our supporters say about us
"St Andrew's Club makes an enormous difference to the lives of so many young people in this community and beyond. The Club's work and support during and following the lockdowns have been fantastic and incredibly necessary. St Andrew's really is the beating heart of this community."
Lord Strathclyde, the Club's President, March 2022
"The work done at St Andrew's has been so crucial during the pandemic and has continued to grow in its support of the community ever since. The Club opens young people's minds, fuels their confidence, and offers them incredible opportunities."

Cllr Andrew Smith Lord Mayor of Westminster, 2021-22
"If you do go to St Andrew's Club, you will find an extraordinarily happy atmosphere, which is welcoming to all the young people who become members of the Club. Throughout this current pandemic, St Andrew's Club has shown a leadership like no other and continues to be inclusive to as many children and young people as possible."

Lord Strathclyde, the Club's President, March 2021
"One of the positive parts of 2020 was building closer links with the youth hubs. It has been inspirational to see the work you do at St Andrew's for the local community and now the connection with the Family Hub is really positive."
Jayne Vertkin, Head of Early Help, Family Services, City of Westminster, January 2021
"Happily, London is blessed by having many wonderful organisations like the St Andrew's Youth Club, who work tirelessly in the knowledge that they have helped those less fortunate than themselves - although few have been doing it quite so long!."
Sir Kenneth Olisa OBE, HM Lord Lieutenant of Greater London, April 2020:
"There is knife crime, there is gang crime, there is gun crime. All of those things are deeply, deeply troubling and disturbing, and a place like St Andrew's Club makes it possible to draw people away, who are at risk of being drawn in."
Cllr Ruth Bush, Lord Mayor of Westminster, 2019-20
"St Andrew's Club is such a triumph – and continues to live up to its long and proud reputation. Its purpose, support and distraction embodies all the good work needed to help the mental health and wellbeing of our local young people – my particular passion."
Cllr Lindsey Hall, Lord Mayor of Westminster, 2018-19
"St Andrew's Club has created an amazing legacy. I am passionate about social mobility and organisations like the Club with its stellar reputation across Westminster are highly regarded".
Cllr Ian Adams, Lord Mayor of Westminster 2017-18
"Thank you for the work that the Club does with young people in Westminster and it is a testament to you that you are still providing this service 150 years after the first Club opened. I wish you well for the next 150 years".
Cllr Nickie Aiken, Leader of Westminster City Council
"I can't imagine how many lives St Andrew's Club has changed in the course of 150 years".
Cllr Steve Summers, Lord Mayor of Westminster 2016-17
"We really enjoyed working with Adrian and the kids on the projects - they really are a great bunch!"
Josh Harris, Policy Manager, The Society of Motor Manufacturers & Traders Limited, having completed an 8 week project of building a kit electric car
St Andrew's Club is "thoroughly deserving to be the final charity recognised after my six years here in Downing Street".
David Cameron, former Prime Minister, at a special reception he hosted at No 10 Downing Street on July 12 2016, his last day in office.
---
Recent Corporate Supporters, Trusts, Foundations, Livery Companies and other charitable support, as of September 2020 (donating more than £1,000):
Corporate Supporters



Blue Orchid Hotels
Burberry
Cayzer Company Trust
Create Recruitment
Edelman
EUK Consulting Ltd
Forsters LLP
Guinness Asset Management
Heeran Construction
John Lewis Partnerships - Victoria Community Investment Fund
Jupiter Asset Management
Laven Partners
Lee Bolton Monier-Williams
Mrs Maud Van Norden Charitable Foundation
M&G Investments
Oil Companies International Marine Forum
Oldfield Partners
Optimiser
Society of Motor Manufacturers and Traders
Tuckerman Residential
Victoria Business Improvement District
Livery Companies and other supporters
Basketmakers, Worshipful Company of, The
Leathersellers' Company Charitable Fund, The
Mercers' Company, The
Royal Society of St George, Westminster Branch, The
Westminster City Council
Trusts and Foundations
Annette Duvollet Charitable Trust
Broughton Family Charitable Trust
BBC Children in Need
Bennett Lowell Ltd
Bernard Sunley Charitable Trust
Charles Wolfson Charitable Trust, The
Childhood Trust, The
Dudley & Geoffrey Cox Charitable Trust
ExPat Foundation
Fieldrose Charitable Trust
Garfield Weston Foundation
Gledswood Charitable Trust
Greater London Area of The Arts Society
Guyll-Leng Charitable Trust
Hawthorne Trust
Hobson Charity
Hyde Park Place Estate Charity
Inner London Magistrates Court Poor Box
Integrity International Trust
JJF Charitable Trust
Joan & John Corfield Charitable Trust
John Lyon's Charity
John Scott Charitable Trust
Joseph Strong Frazer Trust
Landsec Fund via London Community Foundation
Law Family Charitable Trust
London Youth - Getting Active Fund
Mayor's Fund for London - Kitchen Social
Merriman Charitable Foundation
Mildred Duveen Charitable Trust
Nigel Scott Will Trust
Norman Wates Family (NWF) Committee of the Wates Foundation
Peabody Community Fund via London Community Foundation
Pimlico Million
Rose Foundation
Schroder Charity Trust
Strand Parishes Trust
St Giles & St George Education Charity
Swire Charitable Trust
Westminster Charitable Trust
Westminster Almshouses Foundation
Westminster Amalgamated Charity
Westminster Brighter Futures Fund
Westminster Foundation
Wogen Anniversary Trust, The
Woodroffe Benton Foundation
Young Westminster Foundation